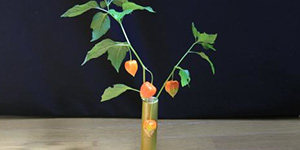 Making crafts using items from nature
When you walk through woods and forests you can find the most unique and colorful craft materials like fallen leaves of different shapes and colors, interestingly shaped tree branches, tree nuts, etc. Materials that stir the imagination can also be found at a river or at the beach. We use nature's blessings to create paintings and woodwork products.
Production and sales business of materials for flower arrangement, leaf painting and woodwork
We plan, produce and sell natural materials and various tool sets.
Production and sales of dye materials
We produce young dye plants that usually grow wild in nature, such as the rubia argyi, lithospermum purpurocaeruleum, persicaria tinctoria, and also sell various dye materials and tools.
Production and sales of Japanese paper, cloth and textile raw materials
We produce young plants used in Japanese paper making including paper mulberry and oriental paperbush, textile raw materials such as cotton and ramie, and sell various production tools and products.